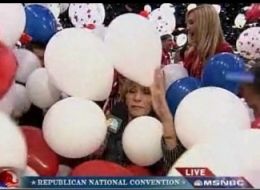 Did any of you catch MSNBC's Andrea Mitchell being buried by balloons? After McCain's speech finished, the network cut to her on the convention floor, and within seconds you could barely see her for all the balloons — which, it became clear, the delegates were gleefully tossing around her and in front of the camera faster than she could flick them away.
If I see the YouTube, I'll post it. If you see it before me, put the link in the comments and I'll post it.
BTW, Andrea seemed almost as gloomy about McCain's speech as she was about Palin's. Good times.
Edit: here ya go.